When We Collided - Emery Lord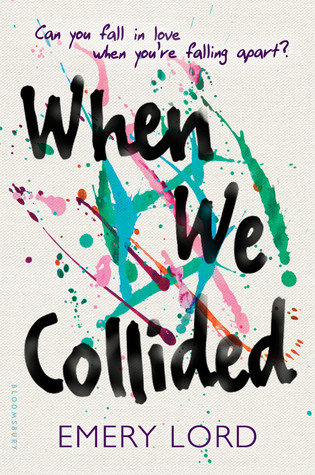 We are seventeen and shattered and still dancing. We have messy, throbbing hearts, and we are stronger than anyone could ever know…

Jonah never thought a girl like Vivi would come along.

Vivi didn't know Jonah would light up her world.

Neither of them expected a summer like this…a summer that would rewrite their futures.

In an unflinching story about new love, old wounds, and forces beyond our control, two teens find that when you collide with the right person at just the right time, it will change you forever.
I must admit that I received this book a long time ago and only just got to it, and now that I've read it, I can't believe I didn't start it WAY sooner! Lord is an incredibly talented writer, building up a nuanced and complicated love story that also handles mental illness with great sensitivity. Though a number of novels so far this year (2016) seem to feature teens who have stopped taking anti-depressants or anti-psychotics, Vivi is a particularly well-constructed character who struggles with taking her own medication. Lord excels at writing about the struggles of a teen with a mental disability, and also dealing with the the difficulty around feelings of shame and being medicated.
The relationship between Vivi and Jonah is particularly solid, eclipsed at times only by the rapport between Vivi and Leah. Jonah's whole family dynamic is actually quite sympathetic and delightfully complex. A mother suffering from depression, older siblings working to keep younger siblings entertained, safe, and fed, all work together to build a family that is broken but compassionate. Vivi's relationship with Jonah's family is both endearing and obviously troubling as she works through her own hang-ups over taking her medication.
Though I do feel that sometimes love stories can overshadow important narratives around mental illness, family trauma, and other related issues, I feel like it works in this particular case. If you want to read a story of romance between two young people dealing with their own emotional baggage, pick this one up! This is a book to be savoured!
Highly Recommended