The Geek's Guide to Unrequited Love - Sarvenaz Tash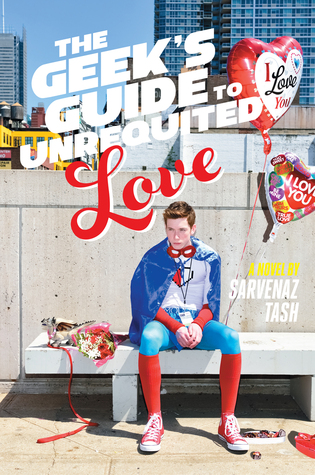 Graham met his best friend, Roxana, when he moved into her neighborhood eight years ago, and she asked him which Hogwarts house he'd be sorted into. Graham has been in love with her ever since.

But now they're sixteen, still neighbors, still best friends. And Graham and Roxy share more than ever—moving on from their Harry Potter obsession to a serious love of comic books.

When Graham learns that the creator of their favorite comic, The Chronicles of Althena, is making a rare appearance at this year's New York Comic Con, he knows he must score tickets. And the event inspires Graham to come up with the perfect plan to tell Roxy how he really feels about her. He's got three days to woo his best friend at the coolest, kookiest con full of superheroes and supervillains. But no one at a comic book convention is who they appear to be...even Roxy. And Graham is starting to realize fictional love stories are way less complicated than real-life ones.
This book was a lot of fun! There was silliness, humour, chaos, and delightful geekiness. Though the story itself is all about young love and the concept of taking the bull by the horns, so to speak, the characterization is actually pretty strong, and so is the setting. There is a lot of geektastic detail for lovers of gaming, inside jokes, and comics lovers:
In the final group are a really detailed Groot; a character with elaborate purple hair I don't recognize; Serenity; and someone in a high-necked, old-fashioned dress, with a covered wagon over her head, and carrying a sign that says I HAVE DYSENTERY a la this old-school computer game called Oregon Trail. The last rightfully ends up taking the grand prize....
There's actually a lot of interesting stuff in this novel. And beyond the obvious humour and drama around teenage love and hormones, this is a real comedy of errors. There's some great talk about gender, expectations about love and lust, and fear of the other (particularly trans and queer individuals). Through all the fun and chaos of New York Comic Con, there is a lag in pacing during the middle of the novel. But the overall text is more than redeemed in the end, and I am glad I was able to check out an advance copy.
There's fun and frivolity, a few flowery and excessively saccharine moments of writing, but Tash's work, in the end, is just plain fun. This is a solid book and will satisfy the beach reader or geek love story fan in all of us.
Recommended
(NOTE: This review is from an Advance Reading Copy - Out June 14, 2016)