When the Moon Was Ours - Anna-Marie McLemore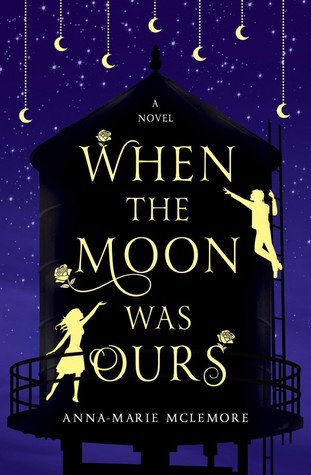 To everyone who knows them, best friends Miel and Sam are as strange as they are inseparable. Roses grow out of Miel's wrist, and rumors say that she spilled out of a water tower when she was five. Sam is known for the moons he paints and hangs in the trees, and for how little anyone knows about his life before he and his mother moved to town.

But as odd as everyone considers Miel and Sam, even they stay away from the Bonner girls, four beautiful sisters rumored to be witches. Now they want the roses that grow from Miel's skin, convinced that their scent can make anyone fall in love. And they're willing to use every secret Miel has fought to protect to make sure she gives them up.
When the Moon Was Ours is a gorgeous exploration of gender, sexuality, familial relations, magic, friendship and the power of telling the truth. Meredith Russo recommended this novel to me, and I wouldn't dare go against such wisdom, so I picked this book up at ALA Annual in Orlando this summer. Now that I've had a chance to read the book—no, savour it—I can tell you that it's very much worth the read! Don't wait. Go and get this book as soon as it's out in the world!
Explorations of gender are at the heart of the book, with Sam trying to figure out if he wants to continue living as a boy, or go back to the gender he was assigned at birth, for the sake of his mother and those around him. The secrets held by the Bonner girls all eventually weave themselves into Sam and Miel's story in unexpected, sometimes violent, but ultimately fulfilling ways. Miel's origin, though kept secret for the majority of the text, makes the ending so much more worth the journey to discover it. And her relationship with Aricely is full of tension and nuance.
I love that this book has a lead character who is trans and South Asian, another lead character who is Latina, and other characters of various gender and sexual identities. In terms of diversity, in terms of writing style, and in terms of representational authenticity, this book has SO MUCH going for it!
McLemore's writing is pure poetry. The narrative is overflowing with heartfelt emotion, complex emotion, and poignant imagery. The magical realism blending together Miel's and Sam's stories is the delicious icing on this already glorious cake.
Fans of Jandy Nelson will adore
When the Moon Was Ours
.
(NOTE: This review is from an Advance Reading Copy - Out Oct. 4, 2016)