A List of Cages - Robin Roe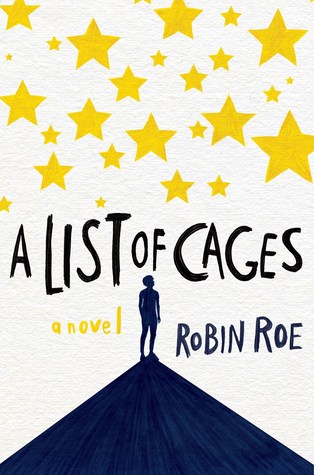 When Adam Blake lands the best elective ever in his senior year, serving as an aide to the school psychologist, he thinks he's got it made. Sure, it means a lot of sitting around, which isn't easy for a guy with ADHD, but he can't complain, since he gets to spend the period texting all his friends. Then the doctor asks him to track down the troubled freshman who keeps dodging her, and Adam discovers that the boy is Julian--the foster brother he hasn't seen in five years.

Adam is ecstatic to be reunited. At first, Julian seems like the boy he once knew. He's still kind hearted. He still writes stories and loves picture books meant for little kids. But as they spend more time together, Adam realizes that Julian is keeping secrets, like where he hides during the middle of the day, and what's really going on inside his house. Adam is determined to help him, but his involvement could cost both boys their lives.
One thing I love in YA is strong male friendships. We often see girls/women in strong relationships (friendships or otherwise), but how often do we see two or more guys with close bonds outside of a dude-bro or gay context? Peter Brown Hoffmeister recently wrote a book called This Is the Part Where You Laugh and the strong bond between male friends is reminiscent in many ways to the connection between Adam, Julian, and Charlie in Roe's novel. And it's not in a gay-bait, Teen Wolf type of scenario either!
Through alternating narrative perspectives, readers are introduced to two very different protagonists. Adam is a popular kid, a senior in high school. Julian is younger has suffered from reading/learning difficulties over the years. The two become connected once again after Adam volunteers for the school counsellor and escorts Julian to the office for appointments (when Julian isn't skipping school or staying home "sick" that is.) What Adam doesn't know is that Julian is being physically and psychologically abused by his Uncle. When Adam does find out, however, the dynamic between the two changes, and even Adam's friend Charlie (who isn't initially a big fan of Julian) starts to connect.
A List of Cages isn't a plot-driven novel, even though there is an ominous feeling underlying the entire narrative. Rather, character development is where Roe's novel excels. I was thoroughly impressed with her ability to show the ways in which strong connections between male friends can be both beneficial and frightening to a young man who is not entirely comfortable with himself (history of abuse notwithstanding).
There is a LOT of really strong content here, and Roe's complex writing and narrative construction will keep avid readers entertained and thinking hard for a long time after finishing the final pages.
Highly Recommended
(NOTE: This review is from an Advance Reading Copy - Out January 2017 from Hyperion)