The Upside of Unrequited - Becky Albertalli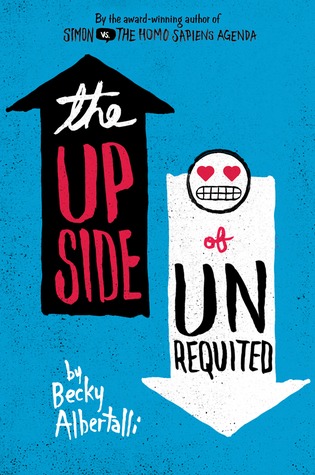 What does a sixteen-year-old girl have to do to kiss a boy? Molly Peskin-Suso wishes she knew. She's crushed on twenty-six guys…but has kissed exactly none. Her twin sister Cassie's advice to "just go for it" and "take a risk" isn't that helpful. It's easy for her to say: she's had flings with lots of girls. She's fearless and effortlessly svelte, while Molly is introverted and what their grandma calls zaftig.

Then Cassie meets Mina, and for the first time ever, Cassie is falling in love. While Molly is happy for her twin, she can't help but feel lonelier than ever. But Cassie and Mina are determined to end Molly's string of unrequited crushes once and for all. They decide to set her up with Mina's friend Will, who is ridiculously good-looking, flirty, and seems to be into Molly. Perfect, right? But as Molly spends more time with Reid, her cute, nerdy co-worker, her feelings get all kinds of complicated. Now she has to decide whether to follow everyone's advice…or follow her own heart.
Love is a weird and wondrous thing, for sure, and so is a crush. Molly has had a lot of crushes, but she doesn't know much about anything beyond that. When her sister, Cassie, starts dating Mina, everything begins to change, and it gets even more ridiculous as she tries to plan her moms' wedding after same-sex marriage was legalized across the United States! A lot of people think they know who Molly should go out with, but Molly is more fixated on the ways in which her relationship with her sister is changing.
In true Albertalli style, Molly tells it like it is, obsesses over everything, and worries about even more. She's self-conscious, wondering what everyone else is thinking about her body and her weight. Do they like her or are they just pretending? What if they only like her with her clothes on? At one fabulous part of this bad-ass book, Molly confronts a boy who tells her she looks "fucking gorgeous for a big girl." At which point she lets loose and it's glorious.
Though quite different from Simon vs the Homo Sapiens Agenda, much of the humour and overall style are very much the same. This is a great book. It's sweet, bad-ass, sensitive, and beautiful. Check it out!!!
Highly Recommended
Thanks to Donna Bray for the ARC!
(NOTE: This review is from an Advance Reading Copy - Out April 2017)