The Fashion Committee - Susan Juby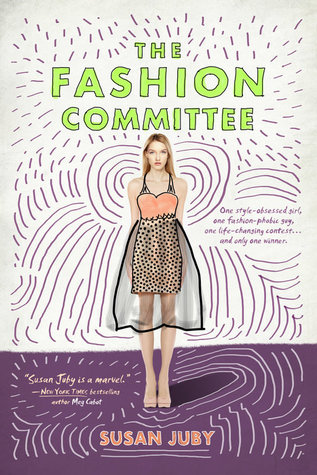 Charlie Dean is a style-obsessed girl who eats, sleeps, and breathes fashion. John Thomas-Smith is a boy who forges metal sculptures in his garage and couldn't care less about clothes. But they share one thing in common: both are gunning for a scholarship to the private art high school that could make all their dreams come true. And whoever wins the fashion competition will win the scholarship. Told in the alternating voices of Charlie's and John's fashion journals which they're required to keep for the contest, this hilarious and poignant tale perfectly captures what it's like to have an artistic passion so fierce that nothing--not your dad's girlfriend's drug-addicted ex-boyfriend, a soul-crushing job at Salad Stop, or being charged with a teensy bit of kidnapping--can stand in your way.
This is a great book! I read it in one afternoon and couldn't put it down. Both of the narrators are distinct, which can be difficult to do in multiple POV situations. Charlie and John are both complicated characters and their lives are less than "happy," but the combination of the competition and John's lack of fashion knowledge lighten up the darker undercurrents of the text. Charlie is living in a less-than-ideal situation with a father just out of rehab who is dating a young woman who has just escaped from an abusive relationship. Similarly, John has a relatively absent mother and he is having a troubling time with his girlfriend after he starts to have feelings for someone else, but at least he has his generous and loving grandparents to look after him.
There is a depth to the novel that people would not necessarily assume in a story about fashion. So often fashion is associated with shallowness and a lack of engagement with reality (this comes to light through John's narrative). But Juby gives readers a lot to think about as her characters discuss motivation, inspiration, and the driving forces that have brought them to compete for a scholarship at the academy's fashion program. What starts out as a relatively simple story of rivalry soon turns into a full-blown examination of passion, adversity, and learning not to underestimate people!
I love Juby's prose, her humour, the depth of her characters, and the fact that she introduces queer sexuality without the use of labels! Though the ending may seem a bit melodramatic for some, I feel the she keeps the book from entering soap opera territory. This book is #Fierce!
Recommended