Night of Cake & Puppets - Laini Taylor & Jim DiBartolo (Illus.)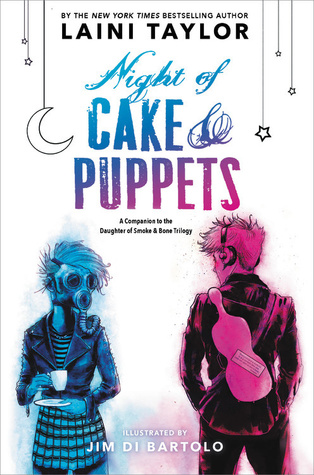 Petite though she may be, Zuzana is not known for timidity. Her best friend, Karou, calls her "rabid fairy," her "voodoo eyes" are said to freeze blood, and even her older brother fears her wrath. But when it comes to the simple matter of talking to Mik, or "Violin Boy," her courage deserts her. Now, enough is enough. Zuzana is determined to meet him, and she has a fistful of magic and a plan.

It's a wonderfully elaborate treasure hunt of a plan that will take Mik all over Prague on a cold winter's night before finally leading him to the treasure: herself! Violin Boy's not going to know what hit him.
This book is super cute, full of delightful romance and inventive magic. DiBartolo's illustrations beautifully complement the narrative. I will note that it's a companion novella to go along with Laini Taylor's Daughter of Smoke and Bone series, so on its own, the book does lack a little bit of depth. However, when read in addition to the other novels, the story works remarkably well and is deliciously magical.
If you're a fan of the series and Taylor's imaginative and well-paced prose, you'll want to check this book out ASAP!
Recommended