Clayton Byrd Goes Underground - Rita Williams-Garcia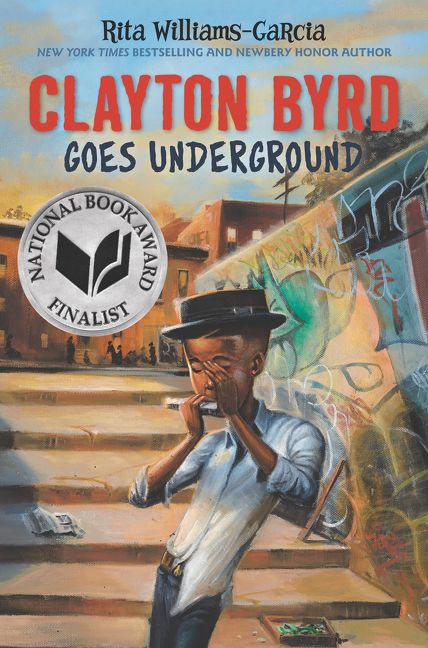 Clayton feels most alive when he's with his grandfather, Cool Papa Byrd, and the band of Bluesmen—he can't wait to join them, just as soon as he has a blues song of his own. But then the unthinkable happens. Cool Papa Byrd dies, and Clayton's mother forbids Clayton from playing the blues. And Clayton knows that's no way to live.

Armed with his grandfather's brown porkpie hat and his harmonica, he runs away from home in search of the Bluesmen, hoping he can join them on the road. But on the journey that takes him through the New York City subways and to Washington Square Park, Clayton learns some things that surprise him.
This book is brief, but with a lot of emotional depth and the expected moments of tender-hearted, childhood honesty that Williams-Garcia is known for bringing to the page. Clayton and his grandfather, Cool Papa, get along very well, and Clayton feels more connected to him than his mom or dad. His mother is not a fan of their relationship though, having had her own complicated relationship with Cool Papa. The disconnect between Clayton and his mother is at the core of the story, and it's truly heartbreaking. While Williams-Garcia doesn't go into great depth explicitly through the text, what is happening between the lines is subtly constructed and indicative of the pain and tension that encompasses the whole family.
While some readers may see the ending as somewhat abrupt, I think it serves the story well and allows readers to imagine the resolution that will hopefully come together as Clayton, his mother, and his father all work to put their family back together.
Recommended