Leah on the Offbeat - Becky Albertalli
I know, I know! I'm sorry! It's been a while. I'm still reading away, but have been putting out a lot of reviews in professional venues as opposed to my blog, so please forgive me. I'm coming back with a strong one, though, so hopefully that will help with the forgiveness! I present to you,
Leah on the Offbeat
!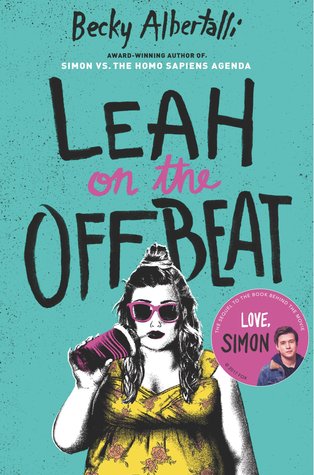 When it comes to drumming, Leah Burke is usually on beat—but real life isn't always so rhythmic. An anomaly in her friend group, she's the only child of a young, single mom, and her life is decidedly less privileged. She loves to draw but is too self-conscious to show it. And even though her mom knows she's bisexual, she hasn't mustered the courage to tell her friends—not even her openly gay BFF, Simon.


So Leah really doesn't know what to do when her rock-solid friend group starts to fracture in unexpected ways. With prom and college on the horizon, tensions are running high. It's hard for Leah to strike the right note while the people she loves are fighting—especially when she realizes she might love one of them more than she ever intended.
Leah is a beautiful, curvy, bisexual, and outspoken young woman and her story is both necessary and timely. Albertalli, who many of you know from Simon vs. the Homo Sapiens Agenda, has only gotten better as a writer, and her commitment to bringing relevant subjects to light is inspiring. Her novel is populated by a racially and sexually diverse cast of characters, and the inclusion of dialogue about microaggressions and casual racism is all-too-necessary in light of the current state of affairs in the United States and around the globe.
Now, I really highly recommend this book, but don't assume that means the novel is upbeat all the time or that Leah is a role model for the ages! She can be downright horrible to her mother, and she often confuses her friends by the fact that she runs away from conflict instead of addressing issues. All of this leads to frustration, confusion, and a lot of unnecessary tension within the narrative, but this is what makes the book so real and engaging. Leah is real! Her relationships are real. She isn't quite an anti-hero, but she's not the perfect protagonist some might expect.
Garrett was my one concern in the book. Leah strings him along, and it's not unrealistic. In fact, it is terribly realistic! But I think there are elements (no spoilers) of their relationship that left me cold by the end. A small quibble amidst a very complex narrative.
Check it out when you get a chance! It's a fabulous addition to the slowly growing canon of bi YA lit!
Highly Recommended