The Shadow Hero - Gene Luen Yang & Sonny Liew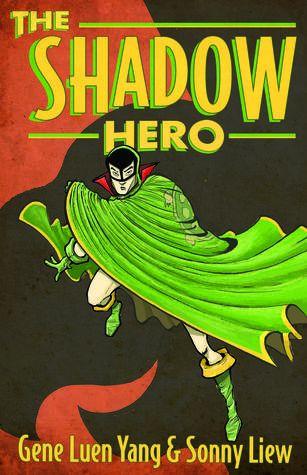 Not only is The Shadow Hero a brilliant graphic novel for a contemporary audience, but it is also a wonderful homage to the first asian superhero, originally created in the 1940s, during the Golden Age of comics in America. What was troubling about the original Green Turtle superhero was that his origins were entirely unknown. Not only that, but his Asian heritage was all but erased through the illustrations and storylines at the time. In response, seven decades later, Gene Luen Yang and Sonny Liew have teamed up to bring us, the adoring public, an origin story for our (no longer quite so) enigmatic Green Turtle superhero.
A second generation American citizen, Hank helps his father to run their family store while his mother (who was a reluctant bride to begin with) works as a maid for a wealthy white family. One day, while running errands, Hank's mother is taken hostage by a bank robber, though she is soon rescued by the Anchor of Justice. Inspired by this encounter, Hank's mother tries to convince him that he, too, can be a superhero. When plans go awry and the Tong gang gets involved, Hank becomes a much less reluctant hero in order to protect what is left of his family and his neighborhood.
The Green Turtle is awesome! I admit that I'm a bit biased due to my love of turtles, to begin with (and those abs don't hurt either!) but I feel that this collaboration between Yang and Liew is truly inspired. The pacing is solid, the illustrations are beautifully expressive, and the historical and cultural components are very well integrated into the overall story arc. I also enjoyed the inclusion of the Spirits and the otherworld aspects of Chinese mythology. Discussions of racial prejudice and stereotyping are helpful, too, and don't overshadow the narrative at all.
Another unique component of this work is that it not only contains the newly imagined origin story, but the back of the book also contains a description of the history of the Green Turtle as well as a reproduction of one of the early comics. I can't wait for the next collaboration and future adventures of the Green Turtle!
Highly Recommended