This One Summer - Mariko Tamaki & Jillian Tamaki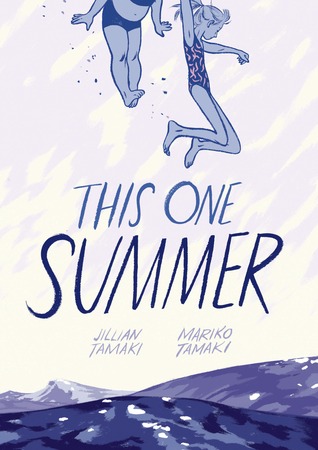 Rose and her family visit a lake house in Awago Beach every summer, to get away from everyday life and to strengthen their family bonds. This one summer, however, things aren't going so smoothly. Rose's mom is acting strange, prone to distraction, depression, and sudden outbursts of anger. At least Rose has her friend Windy, who's really more like a sister than anything. Rose and Windy seek distraction from the family drama unfolding before them, by renting horror films, trying to unravel the drama in other people's lives, and spending a lot of time at the beach. Together, unravel the mysteries of growing up and what lies at the heart of the family drama unfolding around them.
I have come to expect a lot from the Tamakis every since reading Skim a number of years ago. I was incredibly impressed with This One Summer, I am pleased to say, not only because of the phenomenal artwork, but also because of the honest and emotionally raw story at the core of the book. Rose and Windy are starting to grow into themselves, growing up emotionally and physically (see next image), and Rose is trying to figure out her connection to Duncan, the floppy-haired boy who works at the convenience store, and who is enabling Rose and Windy's horror movie habit. Each time the girls go by the convenience store, however, they see another form of drama unfolding between Duncan (referred to by Rose and Windy as "the Dud") and a girl he may or may not have impregnated.
Though there is a LOT going on in this narrative, it refuses to traverse into the realm of didacticism. The characters feel real, the situations authentic, and the family dynamics brutal but ultimately hopeful as Rose, her mother, and her father finally learn to be open with each other. Mariko's writing gorgeously complements Jillian's illustrations, which are (though it's hard to tell from the image in this post) blue! Though originally drawn in black and white, through conversations with the publisher, the Tamakis decided to go with a blue hue throughout, which really enhances the beach theme, reflecting the ocean, the water, the blue summer sky.
Rose and Windy are both very impressive characters, but Windy really does steal the show in many ways, with her outgoing personality and her pride in being raised by her single mother, being educated in a New Age school back home, and socializing with her friends who are raised mostly by lesbian parents. Don't get me wrong, Rose is also a brilliantly realized character, and her interactions with her mother and father are heartbreaking. Mariko and Jillian make it very easy to get emotionally involved with all of the characters in the book.
This is a graphic novel very much worth picking up and reading this summer!!
Highly Recommended