Belzhar - Meg Wolitzer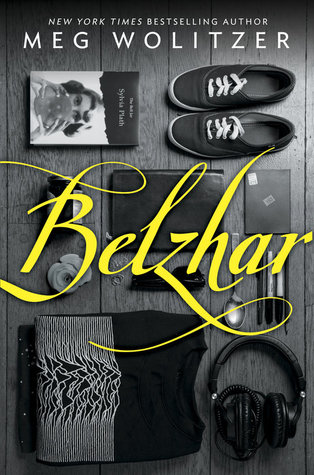 If life were fair, Jam Gallahue would still be at home in New Jersey with her sweet British boyfriend, Reeve Maxfield. She'd be watching old comedy sketches with him. She'd be kissing him in the library stacks.

She certainly wouldn't be at The Wooden Barn, a therapeutic boarding school in rural Vermont, living with a weird roommate, and signed up for an exclusive, mysterious class called Special Topics in English.

But life isn't fair, and Reeve Maxfield is dead.

Until a journal-writing assignment leads Jam to Belzhar, where the untainted past is restored, and Jam can feel Reeve's arms around her once again. But there are hidden truths on Jam's path to reclaim her loss. (Description courtesy of Goodreads)
Wolitzer's book is a mixed bag for me. I love many elements of the novel and found the concept to be quite intriguing. But there were also elements that felt disjointed, and the ending reveal left me feeling less than satisfied. I felt myself connecting to the secondary characters more than Jam. Of course, that being said, Wolitzer's storytelling is wonderful and felt myself getting very much wrapped up in the tale. Character descriptions are vivid, in some cases making dead characters more real than the real characters.
He looked like a member of one of those British punk bands from the eighties that my dad still loves, and whose albums he keeps in special plastic sleeves because he's positive they're going to be worth a lot of money someday. Once I looked up one of my dad's most prized albums on eBay and saw that someone had bid sixteen cents for it, which for some reason made me want to cry.
As Jam, Sierra, Marc, Casey, and Griffin navigate their time at The Wooden Barn and their forays into Belzhar, the group learns (Breakfast Club style) that in order to move beyond trauma and hardship, there is a certain element of acceptance of the past that must come along with recovery. I appreciated that the book was quite diverse in character representation, including a lesbian roommate, a girl with a disability, and other such individuals.
The plot flowed smoothly, and the incorporation of stories within the larger narrative worked really well. The back stories were convincing, giving the novel a distinctive feel. Although, as I noted earlier, I was not a huge fan of the ending revelation of what really happened with Jam and Reeve (don't worry, I'm not going to spoil it!) That being said, I can appreciate what Wolitzer was attempting to accomplish with the juxtaposition of Jam's story against the trauma of the others in the group, even if I had been thinking something different might eventually be revealed.
All in all, I liked the book and found much to love within the pages of Belzhar, and aside from some clunky moments, I found myself very much enthralled with the premise and the characterization(s). And although the comparison of varying traumas among the lead characters felt awkward and forced at times, I did find their struggles very intense and somewhat relatable.
Recommended