Hour of the Bees - Lindsay Eager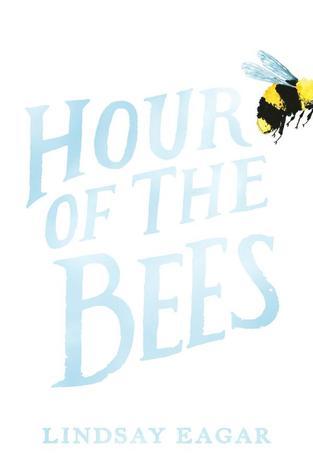 Things are only impossible if you stop to think about them. . . .

While her friends are spending their summers having pool parties and sleepovers, twelve-year-old Carolina — Carol — is spending hers in the middle of the New Mexico desert, helping her parents move the grandfather she's never met into a home for people with dementia. At first, Carol avoids prickly Grandpa Serge. But as the summer wears on and the heat bears down, Carol finds herself drawn to him, fascinated by the crazy stories he tells her about a healing tree, a green-glass lake, and the bees that will bring back the rain and end a hundred years of drought. As the thin line between magic and reality starts to blur, Carol must decide for herself what is possible — and what it means to be true to her roots. Readers who dream that there's something more out there will be enchanted by this captivating novel of family, renewal, and discovering the wonder of the world.
There's magic in the painted desert of New Mexico. Though Carol (Caro-leeen-a) feels trapped on her grandfather's ranch (at least at first), things begin to happen around her that she just can't quite explain. The desert is a home to magic amidst the contemporary realism that dominates this beautiful novel. Carol finds her roots, uncovers secrets her family has been keeping from her, and discovers the links between stories and reality over the course of her summer with her family and her grandfather whose dementia keeps getting worse.
This is what drought is. Skinny sheep; desperate biting flies; desert sand so dusty, it hovers in the air, because the sky has more moisture than the land. The feeling of joints and muscles tightening, because heat makes bodies wring themselves out, mummifying us alive.
This is the drought of my dad's childhood, of Serge's every day.
A dying land.
This is a debut from an obviously talented writer. And although some of the writing still feels a bit choppy at times, the overall narrative is powerful, the characters are very real, and the setting is just gorgeous! Eager's writing utilizes stunning imagery as well, and totally envelopes readers in the beauty of the desolate landscape. The juxtaposition is startling.
I want to be mad at my baby brother for scaring me, but when I crouch down to peek at him, he squeals and laughs. I shake my head and smile at Mom. An Angle of sunset caresses her face. Her hair escapes from its braid in soft wisps, and her eyes glitter like black diamonds and she smiles back at me.
Hearing Carol's grandfather talk about the past and describe the Carol's history and the powerful nature of the names given to those in her family is a poignant and heartfelt experience. Younger readers will experience the power of names and the importance of understand history and family lines. Eager tells a fantastic story and reveals important truths about life, love, and family, never pulling her punches and allowing magic to weave itself through the novel.
This is a book I would Highly Recommend to readers young and old. I had the opportunity to meet and chat with this author at a Candlewick event early in 2016, and was immediately impressed by the way she read her book aloud to those in attendance. I look forward to many more fabulous books from this author in the coming years!
(NOTE: This review is from an Advance Reading Copy - Out March 8, 2016)