The Serpent King - Jeff Zentner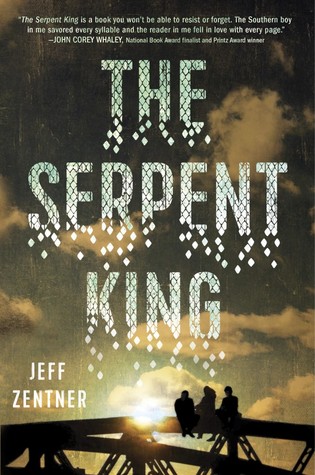 Dill has had to wrestle with vipers his whole life—at home, as the only son of a Pentecostal minister who urges him to handle poisonous rattlesnakes, and at school, where he faces down bullies who target him for his father's extreme faith and very public fall from grace.

He and his fellow outcast friends must try to make it through their senior year of high school without letting the small-town culture destroy their creative spirits and sense of self. Graduation will lead to new beginnings for Lydia, whose edgy fashion blog is her ticket out of their rural Tennessee town. And Travis is content where he is thanks to his obsession with an epic book series and the fangirl turning his reality into real-life fantasy.

Their diverging paths could mean the end of their friendship. But not before Dill confronts his dark legacy to attempt to find a way into the light of a future worth living.
At ALA Midwinter this year, I picked up this book from the Penguin booth. The cover intrigued me, and the publisher reps were gushing over it, so how could I not check it out immediately! I feel guilty for not getting this review out before publication, but better late than never, right? I can't believe I didn't pick this one up off of my to-read pile sooner!
I work a good deal with literature for youth, and I also work with issues of religion and religious themes. When I first saw this cover and read the title, I thought it would be fantasy of some sort, but realized upon reading the first few chapters, that it's an incredibly complex exploration of being a slave to religion and parental expectations. Our three protagonists are each in their own sort of "hell", some trapped by abusive parents, feeling unable to escape from the small town life, or being bound to a fundamentalist Christian family history.
Each character embodies such life and raw emotion, I was emotionally invested very early on in the book. The three are bound to each other deeply, are invested in each other's futures, and are all trying to escape their pasts. Though Dill is somewhat more emphasized in terms of being a main character, Travis is perhaps my favourite character in the novel. His pain is raw and deep, but this makes is joys even more beautiful and compelling. His deep connection to fantasy books really emphasizes his desire to build himself a better life away from his abusive father.
As Lydia works to get into university, Travis works to escape his depressing home life, and Dill tries to convince his parents that there is more than one path to love and truth aside from handling snakes and drinking poison in church. The way Dill is treated by his parents is absolutely heartbreaking, especially the way his father treats him, even though he is in prison for some very shifty business.
Zentner's writing is beautiful, raw, and just plain powerful. He makes statements that will knock you down and others that will make you believe in the powers of love and friendship and family. One statement (no spoilers) about 2/3 into the book made me cry in the middle of Starbucks. One sentence. He knows what he's doing. If you have any interest or connection to religion or if you want to read about some resilient and terrifically fleshed out young people against a small town, Bible belt backdrop, then this is the book for you!!
Highly Recommended
(NOTE: This review is from an Advance Reading Copy)