Crenshaw - Katherine Applegate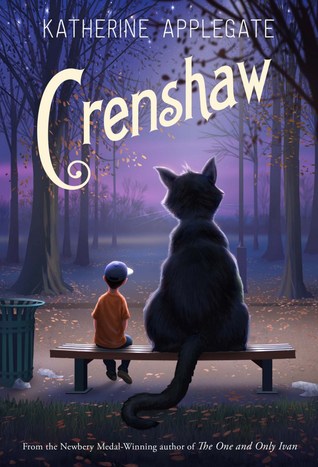 In her first novel since winning the Newbery Medal, Katherine Applegate delivers an unforgettable and magical story about family, friendship, and resilience.

Jackson and his family have fallen on hard times. There's no more money for rent. And not much for food, either. His parents, his little sister, and their dog may have to live in their minivan. Again.

Crenshaw is a cat. He's large, he's outspoken, and he's imaginary. He has come back into Jackson's life to help him. But is an imaginary friend enough to save this family from losing everything?
This is a very solid book. I very much appreciate the direction the book too, and I enjoyed the characterization of the protagonist, Jackson. Considering the title of the book, however, I was expecting more on the Crenshaw front. I still enjoyed the novel, and felt that Applegate did a very good job of confronting issues around homelessness, the working class, and the magic of imaginary friends (and real friends, for that matter!) [Spoiler in the next paragraph!]
A good friend of mine who also read the book, pointed out an issue that I also had with the ending of the novel, namely that of Crenshaw's remaining in the picture even after things have come to a relatively positive conclusion. It seems throughout the rest of the book that Jackson relies on Crenshaw when he is going through troublesome situations, and yet at the end of the novel, he remains, which means that either the purpose of his existence is being called into question, or else the novel is being ended on a less than positive note.
Overall, this is a good book, on that I would recommend, and one that I would definitely hand out to young readers, though I would encourage spreading the word of Crenshaw to those who are not overly sensitive to ambiguous endings.
Recommended