History is All You Left Me - Adam Silvera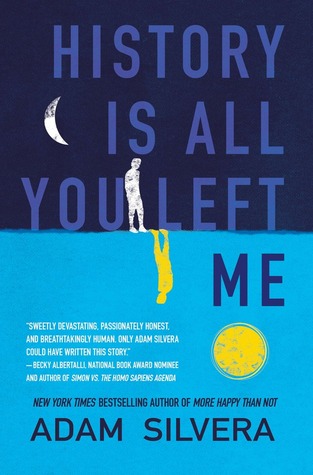 OCD-afflicted Griffin has just lost his first love, Theo, in a drowning accident. In an attempt to hold onto every piece of the past, he forges a friendship with Theo's last boyfriend, Jackson. When Jackson begins to exhibit signs of guilt, Griffin suspects he's hiding something, and will stop at nothing to get to the truth about Theo's death. But as the grieving pair grows closer, readers will question Griffin's own version of the truth both in terms of what he's willing to hide and what true love means.
OH MY GOSH!! This book is just... I mean, it's just so... Wow!
Adam Silvera has done it again. More Happy Than Not, his brilliant debut, is raw, emotionally complex, and heartbreaking in the best possible ways. And History is All You Left Me kicks it up a notch.
I feel like Adam enjoys making people cry and become emotionally scarred by his books, because he gets me EVERY. FREAKING. TIME! This one starts out with a funeral and ends with... well, I won't spoil anything for you, but it's definitely an ending that will make you think. What could easily have become a tale of melodramatic emotional sappiness instead becomes an examination of loss, first love, physical and emotional connections, and so much more.
Griffin is a terrifically developed character, and his OCD is treated thoroughly and with great respect. While many books these days use OCD as a quirk or a slur about perfectionism, this one shows the reality of the disorder. Jackson, as well, is a thoroughly broken character who seems at first to be the big bad "other guy," but as the narrative continues, revelations shake up this assumption.
The narrative alternates between past and present, exploring Griffin and Theo's early days together, and then the developing friendship between Griffin and Jackson as they attempt to deal with their loss. Readers are also slowly but surely exposed to the story of Griffin and Wade's friendship and how Griffin's relationship with Theo eventually alters the dynamics of the group.
There's a lot going on and I don't want to ruin any of the revelations that Silvera weaves into the overarching plot, so instead I will simply say that I Highly Recommend this book. Check it out!!!
(NOTE: This review is from an Advance Reading Copy - Out Jan. 17, 2017)