Flying Lessons & Other Stories - Ellen Oh (Editor)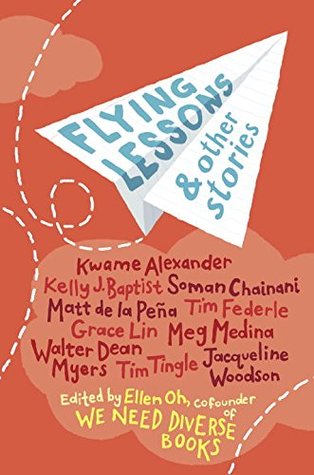 Whether it is basketball dreams, family fiascos, first crushes, or new neighborhoods, this bold anthology—written by the best children's authors—celebrates the uniqueness and universality in all of us.

In a partnership with We Need Diverse Books, industry giants Kwame Alexander, Soman Chainani, Matt de la Peña, Tim Federle, Grace Lin, Meg Medina, Walter Dean Myers, Tim Tingle, and Jacqueline Woodson join newcomer Kelly J. Baptist in a story collection that is as humorous as it is heartfelt. This impressive group of authors has earned among them every major award in children's publishing and popularity as New York Times bestsellers.
I love short stories so much! And short stories by people that I know, respect, and appreciate the work of, is even more amazing! This collection, therefore, is just spectacular! Okay, enough exclamation points. Let's get to the review.
There are so many incredible authors involved in this collection, many of whom you will recognize from their brilliant (and often award-winning) novels and online presence. Matt de la Peña's short story, for example, examines wisdom, education, and personal growth outside of the classroom--in this case, on the basketball court. Grace Lin's story focuses on a young girl set to marry against her will, until she is kidnapped by pirates. Tim Federle examines gender nonconformity, and in his posthumously published tale, Walter Dean Myers tells the story of a young boy who plays wheelchair basketball. Stories from others round out this gorgeous collection. Other authors include Meg Medina, Kwame Alexander, Kelly J. Baptist, Soman Chainani, Jacqueline Woodson, and Tim Tingle.
This is a fantastic collection for a middle-grade audience, deftly covering important topics related to race, ability, gender, family history. We Need Diverse Books is not only an incredibly relevant topic of discussion online and in academia, but is amazingly timely in light of so many calls for #OwnVoices. Though not all stories are autobiographical, some have a certain semi-autobiographical component involved.
Highly Recommended
(NOTE: This review is from an Advance Reading Copy - Jan. 3, 2017)