We Are Okay - Nina LaCour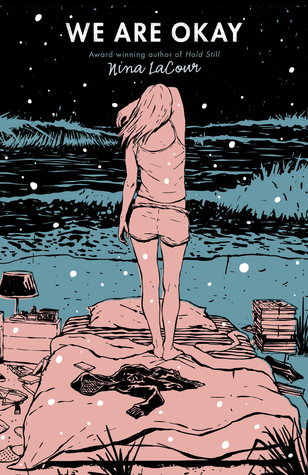 "You go through life thinking there's so much you need. . . . Until you leave with only your phone, your wallet, and a picture of your mother."

Marin hasn't spoken to anyone from her old life since the day she left everything behind. No one knows the truth about those final weeks. Not even her best friend Mabel. But even thousands of miles away from the California coast, at college in New York, Marin still feels the pull of the life and tragedy she's tried to outrun. Now, months later, alone in an emptied dorm for winter break, Marin waits. Mabel is coming to visit and Marin will be forced to face everything that's been left unsaid and finally confront the loneliness that has made a home in her heart.
Short and sweet and gorgeously written, We Are Okay is a novel that I definitely recommend.
Marin has lost her mother, moved away from everyone she knows to be alone at a boarding school, and has been avoiding Mabel's texts, phone calls, and emails for a very long time. When Mabel comes to visit, though, Marin can no longer avoid the past or deal with the loss she has experienced. This relationship between the two girls is the focus of the novel, and it's a beautifully complex depiction of female friendship, complicated with feelings of love and desire.
LaCour's work is complex and filled with rich emotional development and expression, but at the same time it is a wonderfully quiet text. Although not a long book, there is a lot of depth, and the characterization of the two protagonists is thorough. I love that this book features a lesbian protagonist and also a bisexual Latinx love interest. Though not the main focus of the text, the romance portions are delicately woven into the overall narrative.
Told in both present time and the past, Marin's story comes together with achingly honest moments of grief and guilt. I can't wait to hear more reviews from people when this novel comes out into the world!!
Highly Recommended
(NOTE: This review is from an Advance Reading Copy - Out Feb. 2017)