They Both Die at the End - Adam Silvera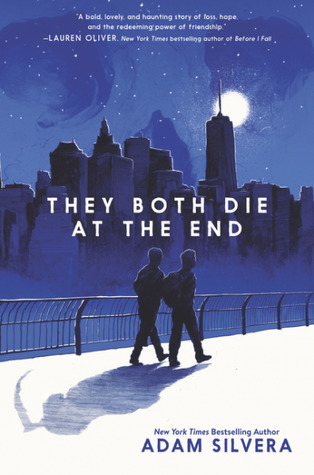 On September 5, a little after midnight, Death-Cast calls Mateo Torrez and Rufus Emeterio to give them some bad news: They're going to die today. Mateo and Rufus are total strangers, but, for different reasons, they're both looking to make a new friend on their End Day. The good news: There's an app for that. It's called the Last Friend, and through it, Rufus and Mateo are about to meet up for one last great adventure—to live a lifetime in a single day.
My track record with Adam Silvera's Books:
More Happy Than Not = ALL THE TEARS
History Is All You Left Me = ALL THE TEARS
They Both Die at the End = well, I'm sure you can guess
I know that reading books with not altogether happy endings is not everyone's cup of tea, so I must be a glutton for punishment because I keep picking up Silvera's books anyway! I mean, his titles really give away the more tragic components of each work, but this one in particular says a lot, and though you may be tempted to hope that it's exaggeration, well, I won't spoil it for you, but....
What I think is incredible about this book is that we go into it knowing the ending to a certain extent, and yet there is so much tension, mystery, and complexity leading up to the final pages.
Told through the alternating narratives of Rufus and Mateo (with the odd chapter focusing on other secondary characters), the book takes place over the course of a single day, focusing on the increasingly deep connection between the two boys. Each of them has their own baggage, lies, truths, fears, and hopes. While both boys know their time is limited, as they continue to get to know each other, they secretly begin to hope for more time which they can use to experience a fuller life together instead of apart.
The science behind Death-Cast is incomplete and not at all a focus of the main story, though it comes up a few times with characters ruminating on gossip and conspiracy theories. Some might find this frustrating, but I really didn't find myself being all too focused on that particular aspect. In fact, I found it similar in a way to Lance Rubin's Denton Little's Death Date where the science seems to have distinct separation from reality as we know it (somehow genetics can predict even a death by car accident, for instance.)
The incredibly complex personalities driving Rufus and Mateo are what bring the book to life. As they slowly work to understand their developing relationship and figure out how to define their connection, the two slowly peel away layer after layer of backstory, allowing readers to form a meaningful relationship with them. There is so much to love about their clumsy attempts to get to know one another, but readers will delight in their moments of joy and will sympathize with them in their moments of sadness and despair.
I can't recommend Silvera's work enough overall, but this one, I feel, brings his work to a whole new level where characterization is concerned. If you can handle the full gamut of human emotion within the pages of a single book, then I Highly Recommend this one!
(NOTE: This review is from an Advance Reading Copy - Out September 2017)